Rotating Resilience Roundtables 
The Rotating Resilience Roundtables is a collaborative effort between Virginia Tech and Old Dominion University with a goal of bringing researchers and stakeholders together to advance the coastal resilience in the Commonwealth. The Roundtables are in their 4th iteration, with successful workshop events held in the spring and fall of each year since 2018. Each Roundtable has a specific theme based on the science needs and interests of its participants and of the Commonwealth. These workshops gather the faculty participants from Virginia's institutions of higher education and coastal stakeholders, such as local officials, NGOs, and resource managers. They typically incorporate panel discussions, presentations, and small group discussions to ensure that all participants are afforded the chance to have their voices heard.
The Rotating Resilience Roundtables were designed to respond to the need for a cohesive and policy-relevant science that will align and coordinate efforts between researchers and other stakeholders to benefit the Commonwealth's resilience planning for the coastal zone. The Rotating Roundtables' concept was selected to facilitate active engagement of interdisciplinary audiences with different coastal themes, as well as to stimulate problem identification, critical thinking, and alignment between the real-time issues and research questions. Further, the event was envisioned to rotate among stakeholder Virginia institutions of higher education and thereby endorsing different structures and thematic areas to meet the following objectives:
1. Facilitate interactions between academic and non-academic stakeholders to improve the alignment of science with local problems in different coastal communities;
2. Identify pressing issues and knowledge gaps vital for the future of resilience research and programs;
3. Build effective networks between science-policy, science-industry, and science-NGO partners;
4. Foster collaboration around coastal issues between diverse groups of stakeholders to identify mutually-acceptable resilience strategies and opportunities for shared benefits in the coastal zone, and
5. Identify opportunities for resilience improvements in coastal-inland interface spaces.
ORGANIZERS: Anamaria Bukvic (Assistant Professor, Geography, Coastal@VT, Virginia Tech) & Michelle Covi (Assistant Professor of Practice, Ocean, Earth and Atmospheric Sciences Department, Old Dominion University)
Fall 2018 at Virginia Tech
This first event in a planned series of roundtables was structured to allow for active interactions and knowledge exchange among participants via presentations, networking, and small roundtable discussions. The roundtable discussions are reflected in the resulting position paper, addressing key priorities and science gaps in different thematic areas related to coastal resilience, and providing recommendations for the role of universities in research, education, and outreach that would inform the resilience planning for Virginia's coastal zone.
The event was held at the Virginia Tech main campus in Blacksburg, VA, on October 11 & 12, 2018. Participants included faculty from Virginia Tech, Old Dominion University, College of William and Mary, the Virginia Institute of Marine Science, and University of Virginia, as well as local government officials from the cities of Hampton and Norfolk, experts from the Hampton Roads Planning District Commission, and representatives from the Wetlands Watch NGO. The selected roundtable themes were: 1) Engineering the future with more water; 2) Technology as a part of solution; 3) Socio-ecological systems; 4) Community resilience; and 5) Should we stay or should we go?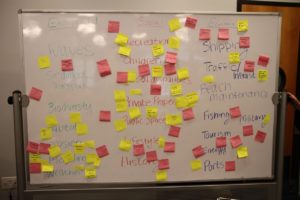 Spring 2019 at Old Dominion University
The second Resilience Roundtable event was held at the Old Dominion University in Norfolk, VA, on April 11 & 12, 2019. The roundtable discussions focused on the following themes of: 1) Changing Ecosystems; 2) Climate and Health; 3) Policy and Politics of Resilience; 4) Flooding and the Built Environment; and 5) Emergency Management and Adaptation Equity. In addition, the Virginia Sea Grant Director Troy Hartley gave a keynote address about Team Science to encourage thinking about team building while tackling coastal resilience issues. Other presentations covered topics ranging from urban flooding and emergency response to the Virginia Department of Health's efforts to address the public health impacts of climate change that are emerging as a priority for the Commonwealth.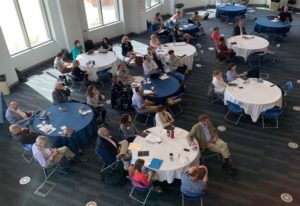 Fall 2019 at Virginia Institute 
This Resilience Roundtable event was held on the October 25th, 2019 at the beautiful Virginia Institute of Marine Sciences (VIMS) campus overlooking the York River in Gloucester, VA. The objective of this workshop was to focus on two thematic areas identified in previous roundtables as important for the Commonwealth's coastal resilience: Changing Ecosystems & Rural Resilience. This new approach to "rotate" different topics allows for more in-depth discussions about the specific priority research questions among researchers working on related issues and in collaboration with local stakeholders to increase their policy relevance.
The event started with a panel discussion, featuring Ben Watson (James River Association), Shep Moon (Virginia Coastal Zone Management), Lauren Fox (Pamunkey Tribe), and Lewis Lawrence (Middle Peninsula Planning District Commission). The ensuing discussions were focused on exploring the selected topics though the conceptual lens of coupled natural and human systems to explore the relationships and dependencies between different social and environmental issues in the coastal zone.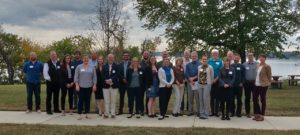 Resilience Research  and Design Collaborative Laboratory: Tidewater 

Collaboratory, Fall 2017
In the fall 2017, students enrolled in my new course on Climate Change and Societal Impacts (GEOG 5984/4984) had an opportunity to participate in the Resilience Research and Design Collaborative Laboratory, better known as Tidewater Collaboratory. In partnership with the city of Hampton, Wetlands Watch, Virginia Sea Grant, and United States Green Building Council-Hampton Roads, and funded by the Adiuvans foundation, the graduate students from the course visited Hampton to partake in a project-based applied component focused on the experiential learning of physical and social vulnerabilities and possible resiliency solutions in this municipality.
During our first visit, our local partners, the City of Hampton officials from the Community Development Department  and colleagues from Wetlands Watch, discussed with us the challenges their community is facing due to accelerating chronic flooding. They also took us to three different case study locations (Phoebus & Fort Monroe; Buckroe Beach & Salt Ponds; and Fox Hill & Grandview) to demonstrate the importance of contextual neighborhood-level circumstances in dealing with flooding issues. Our research focused on the same neighborhoods and their socioeconomic and land use variability and vulnerability that may drive the selection of resilience-building strategies. This collaborative project was designed to help students understand the role of contextual circumstances such as unique demographic, historic, and cultural aspects of well-established urban neighborhoods on the local resilience.
In Salt Ponds, students saw the residential development along the beach and breached groins designed to slow down beach erosion.
David Imburgia, an Environmental & Sustainability Manager and VT alumni, is showing students existing groins in Salt Ponds and NASA's Langley Research Center in the distance at risk of flooding. He also explained the threat of salinization due to seawater intrusion into the existing wetlands and discussed the City's efforts to establish the living shoreline in Phoebus.


During our second visit in December, students presented their research findings, proposed different resilience strategies for the case study locations, and made one last trip to Fort Monroe to take some additional photos with colleagues from Wetlands Watch.
Global Risk Forum (GRF): 5th International Disaster Risk Conference (IDRC), Davos, Switzerland, August 24-29, 2014 
This year's conference, focused on integrative risk management – the role of science, technology, and practice,  gathered over 700 participants from more than 80 countries from UN and other organizations, NGOs, private sector, academia, and media. I had an opportunity to present my project titled Assessing relocation potential in Hurricane Sandy affected coastal communities as a part of  session on Migration and Displacement within Disaster Risk Reduction. This session was organized by Dr. Robin Bronen from the Alaska Institute for Justice who discussed this topic in the context of relocation of Alaskan's native villages that are already experiencing significant climate change impacts.
In addition, it was a pleasure to participate in Dr. Deborah Brosnan's (Virginia Tech/Brosnan Center) special panel on Building Functional Resilience: Integrating Ecosystems, Environment and Natural Resources into DRR with Hans-Peter Plag from Old Dominion University, Wendy Cue from UN OCHA, and Timothy Gablehouse from Colorado Emergency Preparedness Partnership as other speakers. Following the panelists' individual presentations, we had a very productive discussion with the audience on possible policy, science, and socio-economic barriers and opportunities that could emerge from a more proactive and holistic integration of ecosystem/environmental considerations into DDR. Based on the event's feedback, it appears that the audience especially appreciated a diverse range of perspectives on this topic from the interdisciplinary panel participants and its analysis in different contexts and location specific settings. Dr. Yang Zhang from Urban Affairs and Planning – Virginia Tech and I had an opportunity to meet Dr. Walter Amman, the Chairman of the International Disaster and Risk Conference IDRC Davos and the Founder and President of the Foundation Global Risk Forum GRF Davos (photo below).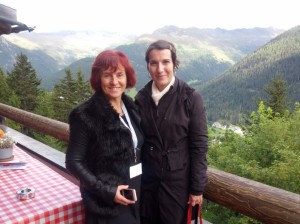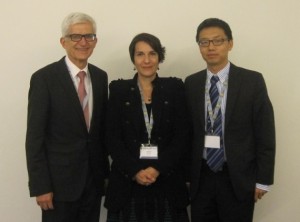 Among many other productive networking opportunities, I had a very enriching  conversation with Dr. Nivideta Haran, the Additional Secretary Home and Vigilance Department of Government of Kerala, India, who was a keynote speaker discussing DRR and CCS: Going from policies to practice. She shared her experiences with coastal hazards/disasters in Kerala region and local efforts to reduce disaster risk by improving infrastructure and connectivity between communities and shoreline to inland locations.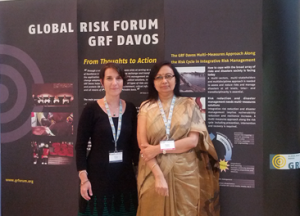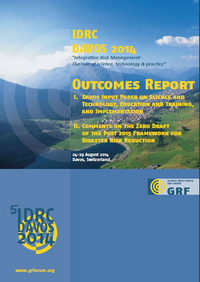 Global Forum on Urban and Regional Resilience (GFURR): Normative Aspects of Resilience, Arlington, VA, October 12-14, 2014
This inaugural conference was devoted to informing our understanding of ethical and normative aspects of resilience in the context of metropolitan or regional  scales. According to the event website, the conference was designed to address "the philosophical and theoretical frameworks for understanding and evaluating normative and ethical issues that pertain to resilience in the context of urban and regional settings". 
I contributed to the panel on Functional Resilience: Integrating Environment and Ecosystems into Resilience Theory and Real World Decisions organized by Dr. Deborah Brosnan,Virginia Tech/Brosnan Center and with three other quest speakers: Dr. Kris Ludwig from USGS,DOI Strategic Science Group, discussing Tactical and Strategies Science during Crises; Dr. Kelly Burks-Copes from the U.S. Army Corps of Engineers talking about Chasing the Big Blue Rabbit – meaning climate change challenges; and Del Morris from the Royal Netherlands Embassy reflecting on Dutch experiences with flood management (photo below).