Resilience Research and Design Collaborative Laboratory: Tidewater

Collaboratory, Fall 2017
In the fall 2017, students enrolled in my new course on Climate Change and Societal Impacts (GEOG 5984/4984) had an opportunity to participate in the Resilience Research and Design Collaborative Laboratory, better known as Tidewater Collaboratory. In partnership with the city of Hampton, Wetlands Watch, Virginia Sea Grant, and United States Green Building Council-Hampton Roads, and funded by the Adiuvans foundation, the graduate students from the course visited Hampton to partake in a project-based applied component focused on the experiential learning of physical and social vulnerabilities and possible resiliency solutions in this municipality.
During our first visit, our local partners, the City of Hampton officials from the Community Development Department and colleagues from Wetlands Watch, discussed with us the challenges their community is facing due to accelerating chronic flooding. They also took us to three different case study locations (Phoebus & Fort Monroe; Buckroe Beach & Salt Ponds; and Fox Hill & Grandview) to demonstrate the importance of contextual neighborhood-level circumstances in dealing with flooding issues. Our research focused on the same neighborhoods and their socioeconomic and land use variability and vulnerability that may drive the selection of resilience-building strategies. This collaborative project was designed to help students understand the role of contextual circumstances such as unique demographic, historic, and cultural aspects of well-established urban neighborhoods on the local resilience.
In Salt Ponds, students saw the residential development along the beach and breached groins designed to slow down beach erosion.
David Imburgia, an Environmental & Sustainability Manager and VT alumni, is showing students existing groins in Salt Ponds and NASA's Langley Research Center in the distance at risk of flooding. He also explained the threat of salinization due to seawater intrusion into the existing wetlands and discussed the City's efforts to establish the living shoreline in Phoebus.


During our second visit in December, students presented their research findings, proposed different resilience strategies for the case study locations, and made one last trip to Fort Monroe to take some additional photos with colleagues from Wetlands Watch.
Global Risk Forum (GRF): 5th International Disaster Risk Conference (IDRC), Davos, Switzerland, August 24-29, 2014
This year's conference, focused on integrative risk management – the role of science, technology, and practice, gathered over 700 participants from more than 80 countries from UN and other organizations, NGOs, private sector, academia, and media. I had an opportunity to present my project titled Assessing relocation potential in Hurricane Sandy affected coastal communities as a part of session on Migration and Displacement within Disaster Risk Reduction. This session was organized by Dr. Robin Bronen from the Alaska Institute for Justice who discussed this topic in the context of relocation of Alaskan's native villages that are already experiencing significant climate change impacts.
In addition, it was a pleasure to participate in Dr. Deborah Brosnan's (Virginia Tech/Brosnan Center) special panel on Building Functional Resilience: Integrating Ecosystems, Environment and Natural Resources into DRR with Hans-Peter Plag from Old Dominion University, Wendy Cue from UN OCHA, and Timothy Gablehouse from Colorado Emergency Preparedness Partnership as other speakers. Following the panelists' individual presentations, we had a very productive discussion with the audience on possible policy, science, and socio-economic barriers and opportunities that could emerge from a more proactive and holistic integration of ecosystem/environmental considerations into DDR. Based on the event's feedback, it appears that the audience especially appreciated a diverse range of perspectives on this topic from the interdisciplinary panel participants and its analysis in different contexts and location specific settings.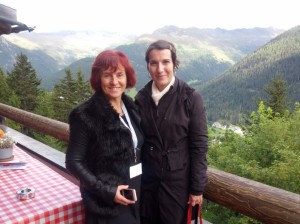 Dr. Yang Zhang from Urban Affairs and Planning – Virginia Tech and I had an opportunity to meet Dr. Walter Amman, the Chairman of the International Disaster and Risk Conference IDRC Davos and the Founder and President of the Foundation Global Risk Forum GRF Davos (photo below). We discussed possibilities for continuing collaboration between GRF, Virginia Tech's Global Forum on Urban and Regional Resilience, and the School of Public and International Affairs.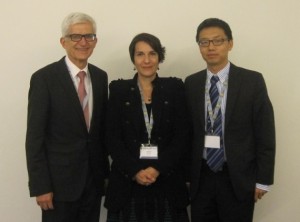 Among many other productive networking opportunities, I had a very enriching conversation with Dr. Nivideta Haran, the Additional Secretary Home and Vigilance Department of Government of Kerala, India, who was a keynote speaker discussing DRR and CCS: Going from policies to practice. She shared her experiences with coastal hazards/disasters in Kerala region and local efforts to reduce disaster risk by improving infrastructure and connectivity between communities and shoreline to inland locations.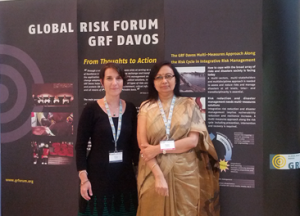 And lastly, this event resulted in the outcome report including a summary of the the post-conference expert workshop with focus on science and technology, education and training, and implementation from a science and technology perspective, as well as comments from conference participants on this topics. The report findings will be reflected in the post-2015 framework for Disaster Risk Reduction (HFA2) and will provide recommendations towards the UN World Conference WCDRR in Sendai, Japan.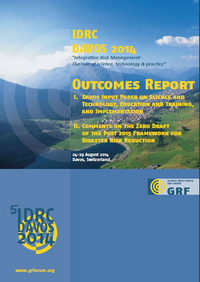 Global Forum on Urban and Regional Resilience (GFURR): Normative Aspects of Resilience, Arlington, VA, October 12-14, 2014
This inaugural conference was devoted to informing our understanding of ethical and normative aspects of resilience in the context of metropolitan or regional scales. According to the event website, the conference was designed to address "the philosophical and theoretical frameworks for understanding and evaluating normative and ethical issues that pertain to resilience in the context of urban and regional settings".
I contributed to the panel on Functional Resilience: Integrating Environment and Ecosystems into Resilience Theory and Real World Decisions organized by Dr. Deborah Brosnan,Virginia Tech/Brosnan Center and with three other quest speakers: Dr. Kris Ludwig from USGS,DOI Strategic Science Group, discussing Tactical and Strategies Science during Crises; Dr. Kelly Burks-Copes from the U.S. Army Corps of Engineers talking about Chasing the Big Blue Rabbit – meaning climate change challenges; and Del Morris from the Royal Netherlands Embassy reflecting on Dutch experiences with flood management (photo below).